We have ongoing English Classes on Tuesdays and Thursdays from 7PM – 8PM at Edna White Garden (next to the police station). The classes are designed to accommodate children to adults.
Classes are conducted by seasoned professional educators.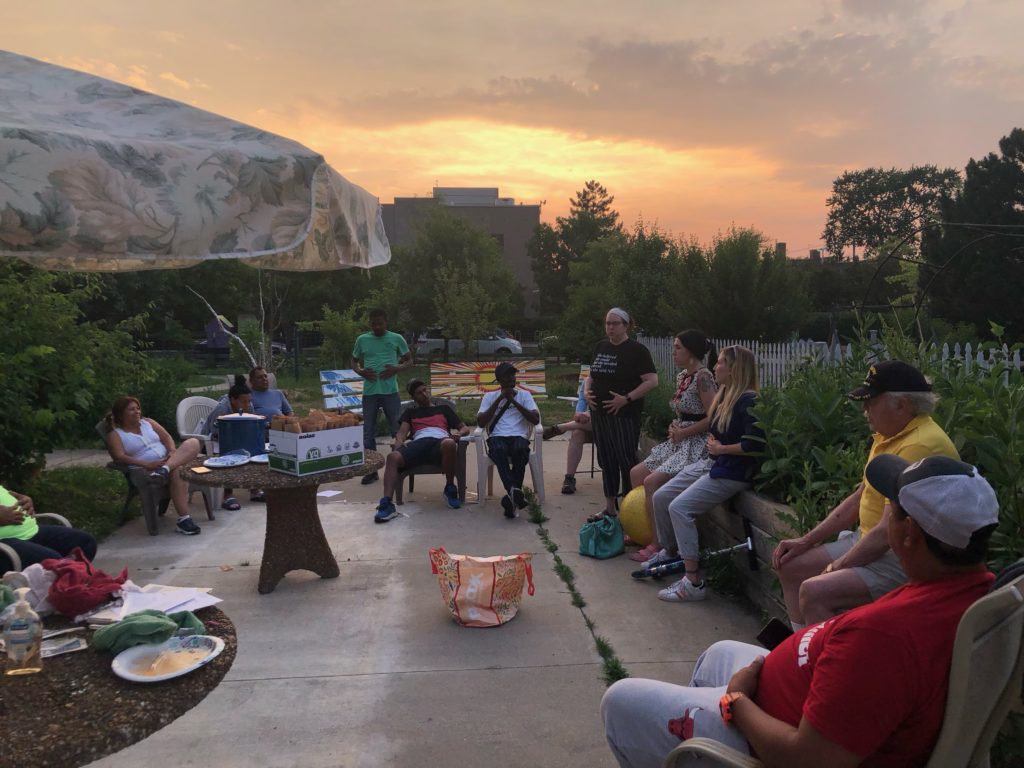 If you have questions or suggestions, please email Melissa Deming mfaccini.c@gmail.com
ESL (English as a Second Language) Notes
Where?
Edna White Garden (around the round picnic tables by the garden shed). Thank you Kathy for hosting and for all your involvement and support.
When?
Tuesdays and Thursdays 7-8pm
What?
We offer practical ESL lessons to the adults and kids interested in learning, and we offer opportunities to practice what they learn. That way, they continue to build their vocabulary as well as their confidence in speaking English. We try to design the lessons based on their needs and interests. The groups change often. So, unfortunately, we don't get to see our students for very long before they are taken to shelters. However, some groups have waited at our station for more than three weeks.The current group is large (about 42 people including kinds). About half of them attend our classes.
Lesson format:
7:00-7:30 Introductions, greetings and mini lesson
7:30-8pm Conversation practice in small groups
Lesson Topics We've Covered (not necessarily with the same group):
Personal pronouns
The verb to be
Common verbs
Letters and numbers
Some phonics
Common selling and buying phrases
The kids have also enjoyed games, songs, and readings of easy book like Eric Carle's Brown Bear
Materials:
We have received a donation of several workbooks (only enough for some of our guests) and guides through teachers at Brother Rice. They also purchased some whiteboards and markers for our volunteers to use while teaching (last week). Although they are a nice resource to have, they are designed for a classroom. We will need to pick and choose what lessons are most needed for our guests and make additional copies. We've also discussed a potential fundraising idea for educational needs.
We've also received some readers through, and he is willing to make copies. Thank you Tim!
Current needs:
Teachers (being bilingual is not a requirement since someone bilingual will be there to translate if needed) to commit to teaching Tuesdays and/or Thursdays (7-8pm) and partake in what's already happening. Feel free to come and observe first and let us know if/how you'd like to be involved. Please email Melissa Deming mfaccini.c@gmail.com. 
Bilingual teachers that can offer classes and/or opportunities for practice beyond the current schedule (which currently matches Melissa Deming's limited availability)
Someone to help gather people in preparation for the lesson (6:45-7)
Flashcards with common words/phrases to hand out
Rings for flashcards
Opportunities to practice outside of scheduled lessons
A planning group to brainstorm lesson topics and gather materials
Grammar books or copies of frequently used grammar guides
Spanish/English dictionary
Notebooks
Pencils
Small easel